Introduction
You may now get a digital daily planner app. It is hard in our fast-paced culture to remember your daily schedule to avoid missing a significant event. They simplify our lives and help us to remain orderly and productive. It is time to start utilizing one if you still need to. We have picked the top ten daily planner applications to provide you with a range of options if you are unsure which would fit you best.
There are various strong reasons why we picked these particular applications. These not only increase your level of efficiency but also greatly simplify your day-to-day activities.
Factors to Consider Before Selecting a Daily Planner App
We must take into account a few key factors before we begin. It is crucial to match the app to your tastes and requirements. Remembering three critical factors will aid you in selecting the ideal planning tool for you and your daily routine.
Usefulness
Developing the habit of completing each activity into a planner software only depends on your program use. To determine how simple, it could be to start using the app immediately, look at its features and design.
A dozen perspectives on your tasks might not terrify you if you are an experienced professional. A UI with an easy-to-use menu and just a few views could be more appealing if you are new to planning applications or switching from a manual planner.
Cost
There are two types of expenses. Even though an app may cost $4.99 a month, you will only pay that amount when you utilize the app. Others could be free, but there are restrictions on the amount of storage and the duration of use.
When turning your timetable into a smartphone app, decide how you would like to spend this time-management tool. Free trials are a great way to test how a planner software works, but be sure you are considering the long-term implications and how you would prefer the pricing structure set up—as a one-time purchase or as a monthly subscription.
Compatibility
Since it is likely not your first-time using daily planner apps, a new one must be compatible with existing ones. Before selecting the planner that suits you the best, consider what you already use and even set aside time to delete applications that do not offer as much value or can be substituted with a daily planner app.
Considering these factors in mind, we have provided our top 10 list. All app summaries include information on cost (free, tier-based, premium) and possible integrations).
Top Daily Planners Apps
We must manage endless things in times, events, and to-dos. We must arrange stuff to advance our careers, studies, personal lives, and social lives. You must have a planner app if you would like to access the day's schedule, school assignments, shopping lists, or customer notes from any device. If you enjoy paper planners with the same, check out this article's summary of some of the best daily planner apps.
1. Any.do
Any.do ensure some features and more if you aim to stay disciplined and complete your tasks. Time management tools can help you stay on target. They serve as a reminder of obligations and must-attend events. Any.do is accessible on Windows, macOS, iOS, and Android. Program and management of tasks are the focus of the productivity app Any. do. Thanks to built-in connections like calendars and AI assistants, it is available via mobile, web browsing, and wearable technology.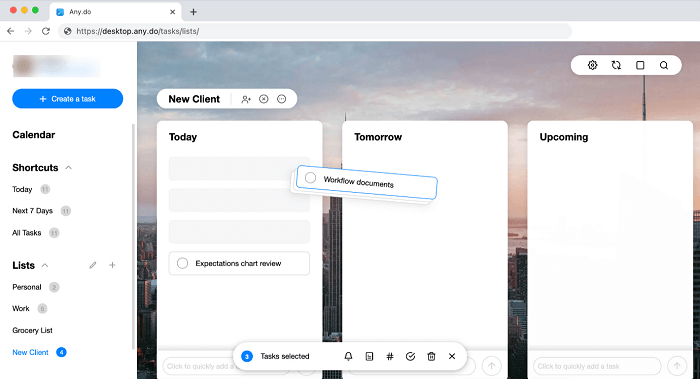 It contains additional advantageous essential features in addition to the standard functions like due dates, prioritization, automated alerts, setting up recurring tasks, warnings, and a user interface for creating simple to-do lists.
Pricing:
There is a free version of Any.do. Its monthly subscription fee is $2.99.
2. Things 3
With this daily planner app, you can arrange itineraries, manage schedules, add notes, make lists, and even get reminders on your Apple watches. Things 3 is your daily and weekly calendar. It offers you the greatest help to boost your productivity and keep things organized. Its basic structure makes it easy to understand and apply. You do not need to wait for a feature to start, so you may start right away.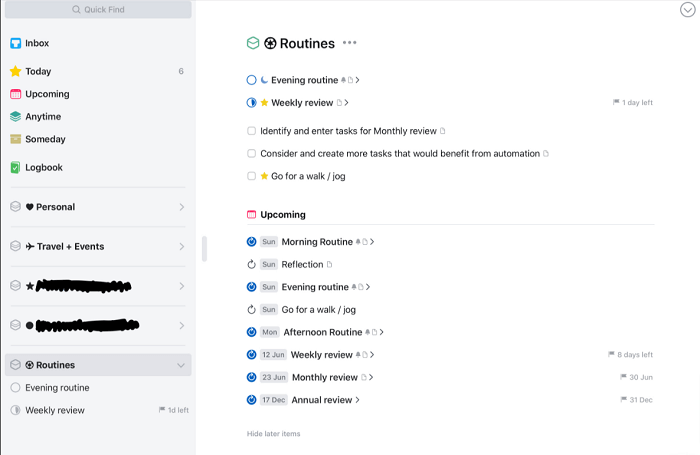 However, fully integrating Apple's operating systems comes at a price. The cost of the iOS application is $10 more than the $50 cost of the PC edition. There is a free, two-week trial period available. This charge is one-time only, compared to other apps, so you will not end yourself locked into a subscription.
Pricing:
Desktop app: $50
iOS app: $10
3. Todoist
Todoist is one of the best daily planner apps among independent freelancers, managers of teams, and larger enterprises. This tool helps you remain focused and organized so you do not forget everything. Priority setting, deadlines, and collaborations are features of its free edition. You may quickly add items to your list of tasks to do using Todoist's robust processing of natural language and recurring dates. Over 30 million people and organizations worldwide are familiar with the app.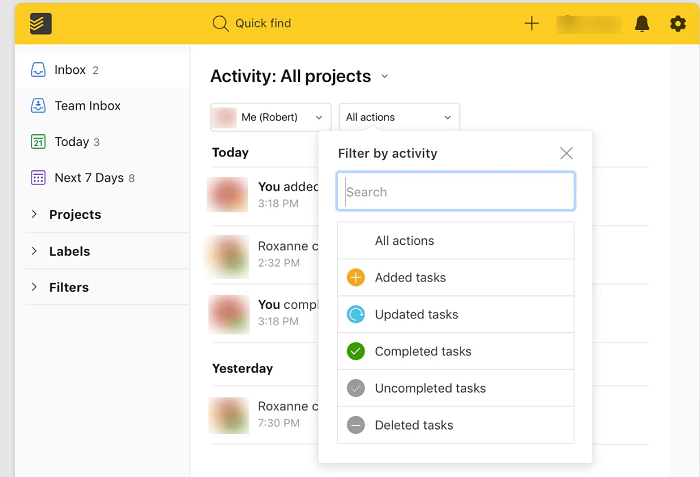 Todoist offers a number of app integrations that improve workflows and streamline task management. This program has several advantages and complies with the specifications of an organized operating system.It makes it possible to create subtasks, subprojects, recurring tasks, and more. Additionally, you may connect to services like Dropbox and Google Calendar. The free edition has minimal communication and filtering capabilities, making it difficult to create subtasks.
Pricing:
There is a free plan for this work management application. Paid plans for it begin at $3 per user per month.
4. Google Calendar
One of the most popular calendar apps, both for people and for groups, is Google Calendar. You may toggle between several to-do list layouts and individual sync events from Gmail. Additionally, one app gives you access to several calendars. This serves as one the world's best planning applications since it lets you maintain records of your tasks and record your time and costs with detailed justifications.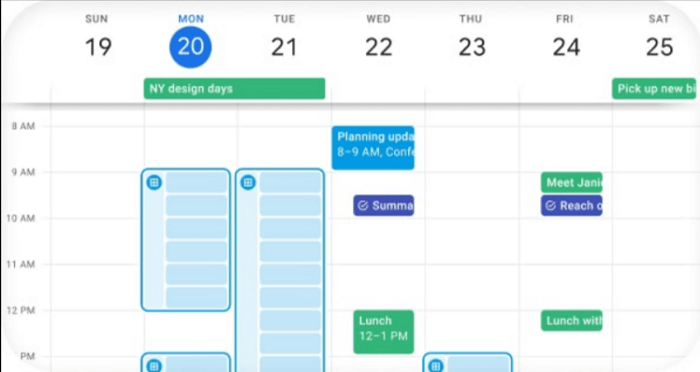 Google Calendar allows you to add fresh dates, make reminders, and update your list of tasks on the same date as those activities. You can also sync private activities from Gmail and change between different to-do list layouts.
Pricing:
There is no cost to use the Google task calendar. The monthly fee of the premium plan is $5 per user.
5. Friday
Due to its distinctive qualities of appreciating the worth of your precious time and preventing distractions while you are employed, Friday is also among the top ten daily planners for 2023. Yes, it will delay until the deadline specified on the calendar rather than continually blasting messages while you are in the office, organizing, or completing your chores.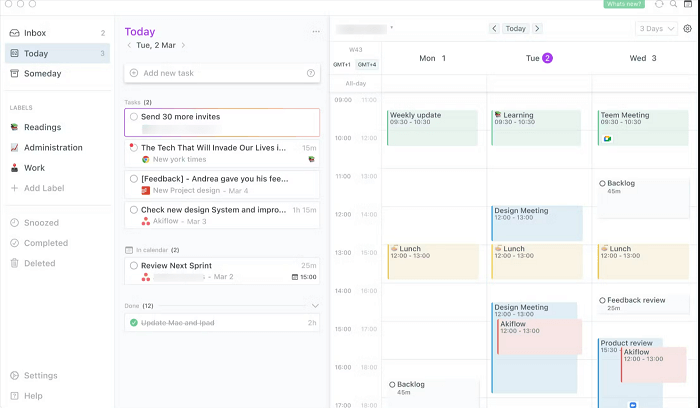 The most excellent planning tools are at your disposal with the Friday daily planner software, which lets you divide your goals into manageable portions to prevent time-sucking distractions. Friday is a beautiful alternative if you seek an academic planner or daily calendar software. You may build routines with periodic reminders, organize meetings, and divide chores into to-do lists.
Pricing:
Offers a free plan and a $6 per user, per month premium version.
6. nTask
nTask offers an all-in-one workspace for team collaboration by combining your routine planner with the management of projects. Before asking team members to work together on specific projects and tasks, list all the projects, you want to work on and make a note of any obstacles you may encounter. Every time you finish a subtask, the progress bar moves closer to being complete, thus keeping you extra motivated. You may mark tasks as done or create new workspaces from any location with nTask because it works on many devices.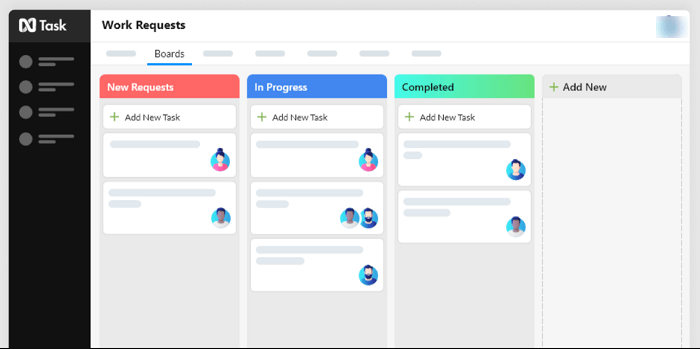 The entry-level plan, invoiced annually, is intended for teams just starting to begin managing projects. More seasoned teams prefer the company's top tier, which offers more capabilities, including greater visibility (think Kanban), interconnections, and subtasks capability, among other things.
Pricing:
Premium Account – $36
Business account – $96
7. TickTick
You may schedule chores, set reminders, and make a list that you can share using the excellent student planner software TickTick. Its straightforward calendar gives you fast summaries of all your responsibilities. Tick Tick makes playing a game look like fun. Yes, it is game-like, as you must check the boxes next to the daily activities you will perform for yourself, your family, or your job.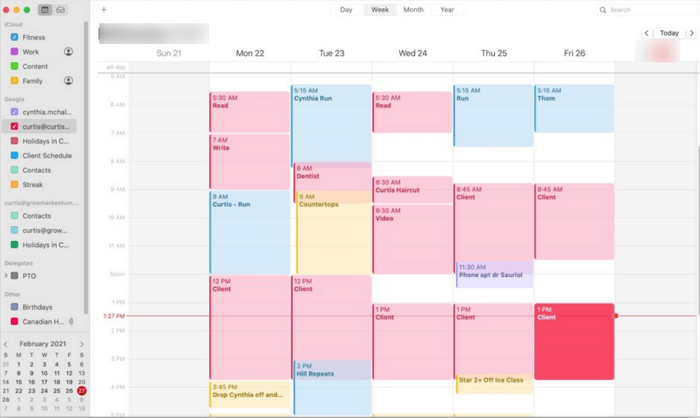 When you are well-organized and complete all your professional and personal duties on schedule, you will have more free time to engage in activities you like. TickTick, one of the most excellent planner applications, offers a simple task organizer with a few advanced options. It functions as intended, allowing you to cross off every task, from a personal goal to a work-related errand, in your list of things to do dairy. TickTick is one of the most fantastic planning applications because it bridges the distinction between assignment and management of projects.
Pricing:
There is a free plan for this reminder app. The premium program has an annual user fee of $27.99.
8. Asana
One of the top iPhone productivity applications is Asana. This adaptable management of projects tool promotes teamwork. There are a ton of integration possibilities. You can use the app to arrange your personal and professional lives by using it as a daily planner. Asana is one of the best daily planner apps because it fills the gap between assignments and project management. Additionally, it comes with many easy-to-use characteristics that set it apart from competing products on the market, giving all these advantages at a reasonable cost.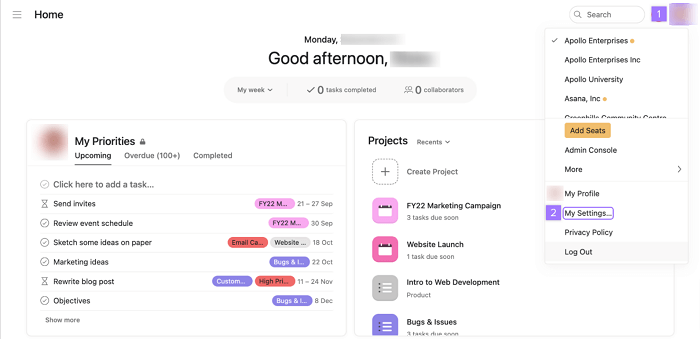 The program can organize recurrent chores, create customized reminders, and create a timeline of your day. Since Asana's excellent user interface enables collaboration simple for teams of any size, we chose it as the top free planner for businesses.
Pricing:
Free Basic plan
Premium account for $10,99
Business account $24,99
9. Trello
Trello is an open Android software that you can employ for both project management and goal monitoring. Therefore, by maintaining a balance between them, our daily planner software will assist you in delving deeply into the assignment and personal objectives. Trello is a productivity tool for organizations and individuals. It emphasizes raising the bar for teamwork. The characteristics enable flexible processes. Effective collaboration requires a straightforward user experience and purposeful cooperation.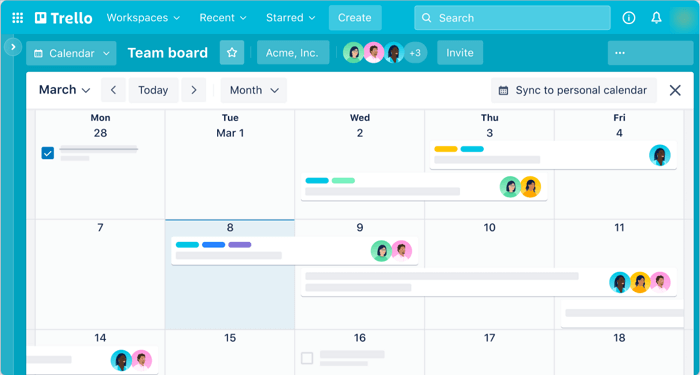 It can organize tasks into panels and cards, each with different activities. The assignment of specific tasks to teams or individuals might include deadlines and inspections.
Pricing:
There is a free version of Trello. Its paid offer begins at $10 per month.
10. My Daily Planner
The My Daily Planner software earns its keep by strategically arranging your days. If you enjoy organizing your team's duties by combining the To-do checklist and planner, consider placing this app among the top 10 daily planner software for 2023. My Daily Planner provides a basic set of functionalities in an easy-to-use interface that operates both online and offline. You may use the best daily planner app to arrange assignments with subtasks and tasks using folders for organization. While developing a project, you may create new works without deadlines and schedule recurring ones.
You may add a few extra features and break tasks into manageable segments. To set a priority for the items on your calendar, select colors afterward. It will consequently assign less crucial chores to the following days. Thus, your digital assistant, the My Daily Planner app, maintains track of your to-do lists.
Pricing:
This scheduler app is cost-free.
Conclusion
We hope this post has helped you with the time-consuming task of selecting the correct tool for your daily scheduling. Use the method that best meets your needs, whether handling your time, team, business initiatives, or making a vacation plan. Keep your thoughts concentrated and your advancement high by selecting a daily planner software to increase your productivity. You can easily make the best possible use of the time you have with the aid of planner software.